Download the Case Study Water Management for Green Infrastructure
Enhancing Flood Resilience and Urban Green with Soil Moisture Management
Cities and urban centers face a major challenge in managing flood risk and stormwater effectively. To combat this issue, billions of dollars have been invested in green infrastructure systems and subsurface stormwater systems, strategically hidden by urban green spaces, to mitigate damage from heavy rainfall and flooding.
Maintaining green infrastructure facilities is crucial, just like any other public service system. Marcus Quigley, CEO, and Founder of Ecolucid specializes in supporting green infrastructure maintenance and operational decisions.
Learn more
Want to learn more? Download the read the complete case study on Smart Technology for Green Infrastructure with smart soil moisture data integration.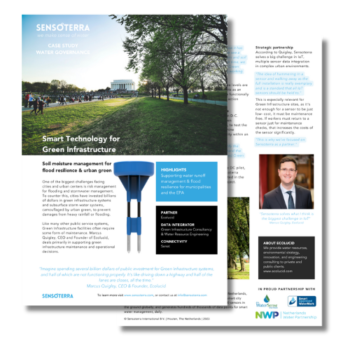 Get started with Sensoterra
To get started, answer a few short questions so we can send you a custom quote
request a quote