The 2019 InfoAg Conference recently concluded in St. Louis, Missouri. The two and a half-day event highlighting precision agriculture consisted of a large program of panels, conferences and workshops, with an exhibition of approximately 200 booths.
Author: Emmanuel Mounier
The 2019 InfoAg Conference recently concluded in St. Louis, Missouri. The two and a half-day event highlighting precision agriculture consisted of a large program of panels, conferences and workshops, with an exhibition of approximately 200 booths in the main hall of the majestic Union Station Hotel. The conference provided educational and networking opportunities for more than 1,200 registered attendees. The annual event is an opportunity for scientists, farmers and solution manufacturers to meet with leaders in the precision and digital agriculture world, and collaborate with experts in Internet of Things (IoT), data, robotics, fertilization management, and more.
As the Business Development Director for Smart Agriculture in Semtech's Wireless and Sensing Products Group, and lead of the LoRa Alliance® Smart Agriculture Working Group, I was fortunate to attend InfoAg for the fourth time. Each year, IoT solutions exhibitors are increasingly displaying end solutions for farmers that generate agriculture data for major participants of this industry also exhibiting at InfoAg, including Airbus, FarmersEdge, ProAgrica, and Solinftec.
InfoAg Conference 2019 – exhibition hall
A Growing Ecosystem Makes Waves
Walking the aisles of the show, it was difficult to miss the booths of major LoRaWAN®-based solution manufacturers, such as Sensoterra, with its soil moisture monitoring solution and large range of available sensors. RealmFive launched 17 new products within its connectivity platform, a number of which leverage Semtech's LoRa® devices. At the show, IoT America presented a large range of devices available on its network dedicated to agriculture and rural use cases. Additionally, Paige Wireless, together with Paige Precision Ag, debuted their new solution, AgWireless, which is utilizing Paige Wireless's expansive LoRaWAN-based network to help producers maximize inputs across the U.S.
It was a pleasure to witness first-hand the momentum of Semtech's LoRa devices and the open LoRaWAN protocol in smart agriculture. I last noticed this at this year's World Ag Expo, where many of the exhibiting device manufacturers were aware of the attributes and benefits of LoRa or LoRaWAN, and most were already using it or planning to use it for future developments. The ultra-low power consumption and the long-range connectivity capabilities of the technology are essential characteristics for smart agriculture devices that are expected to remain in fields for up to several complete growing seasons. To be successful in this area, devices must collect information and send alerts effortlessly to the farmer. Connectivity cost should be included in the provided solution that demonstrates a return on investment (ROI) for the first growing season and is very easy to install.
LoRaWAN offers unique flexibility in the deployment of its connectivity infrastructure for rural areas, from public operated networks for a single weather station, to private gateways on a local network with high-density cattle monitoring sensors in remote areas.
The LoRa Alliance: Leaders for IoT-Based Smart Agriculture
InfoAg is a key event for precision agriculture in North America and the LoRa Alliance contributed to the conference program: This year, the LoRa Alliance chose two speakers for the IoT Panel:
Jurriaan Ruys, CEO of Sensoterra, demonstrated how its soil moisture solution optimizes irrigation and increases the production yield on farms and orchards.
Matt Murray, from Process Tech Ag, spoke about its smart agriculture decision-making platform that cross compares data from multiple sources. The product leverages the Sensoterra solution to capture the soil moisture data.
Additionally, the LoRa Alliance sponsored the IoT Workshop with three presenters:
Jurriaan Ruys, CEO of Sensoterra, presented its soil moisture solution in-depth and explained the reasons why LoRaWAN was the natural IoT connectivity platform for its sensors.
Noelani McGadden, Vice President of Strategic Accounts at Senet, explained the role of a LoRaWAN operator in the ecosystem as well as the useful tools and benefits that members receive as part of the LoRa Alliance.
Jason Steffen, Agronomist and Senior Field Technician at Teralytic, presented the company's unique soil monitoring solution and offered feedback from the field to explain that, like any technology, LoRaWAN has some limitations but remains the best connectivity solution to collect data from sensors in the field.
From the exhibit hall to the panels and the workshops, the LoRaWAN ecosystem effectively demonstrated that LoRaWAN is the de facto standard for smart agriculture IoT solutions and contributed to the huge momentum around Semtech's technology in this vertical.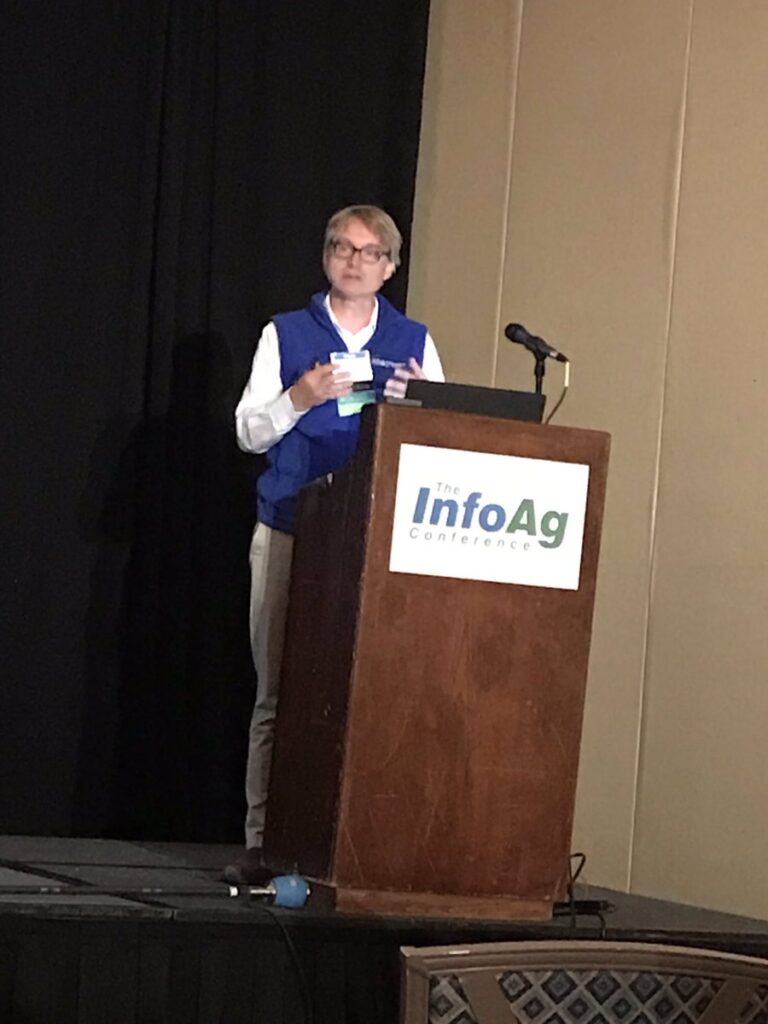 Jurriaan Ruys – Sensoterra CEO
The next edition of the InfoAg conference will be held at Union Station in St. Louis on July 28-30, 2020.
About Sensoterra
Sensoterra is a global leader in smart farming technology, providing wireless soil moisture sensors to all types of growers. The incredible spreadability of over 5,000 sensors around the world is possible due to IoT technology, established by LoRa connectivity. Sensoterra was found in 2014, based in Amsterdam with projects in agriculture, horticulture, nature restorations and smart cities.