David Schimmelpfennig of the US Department of Agriculture notes the benefits of soil moisture sensors and outlined the calculation of a typical operation of how small row-crop farms can implement precision techniques to enhance production.
Precision Agriculture
The introduction and integration of high-tech tools in agriculture are increasingly transforming farmers productivity and the surrounding environment. The historical challenges faced by farmers – such as field and input management, excessive water use for irrigation, natural resource reduction, energy management, lack of proper infrastructure for remote areas – are rapidly being solved by expressive changes in agricultural techniques with the adoption and integration of precision agriculture.
One of the key contributors for precision agriculture development is the Internet of Things (IoT) technology, where physical objects are converted into smart objects by the interrelation of computing devices. These smart objects can be characterized as soil moisture sensors, drones, temperature controllers, and many other tools which have provided greater technical assistance to cropland management.
David Schimmelpfennig of the US Department of Agriculture notes the benefits of soil moisture sensors and outlined a calculation of how a typical operation of how small row-crop farms can implement precision techniques to enhance production.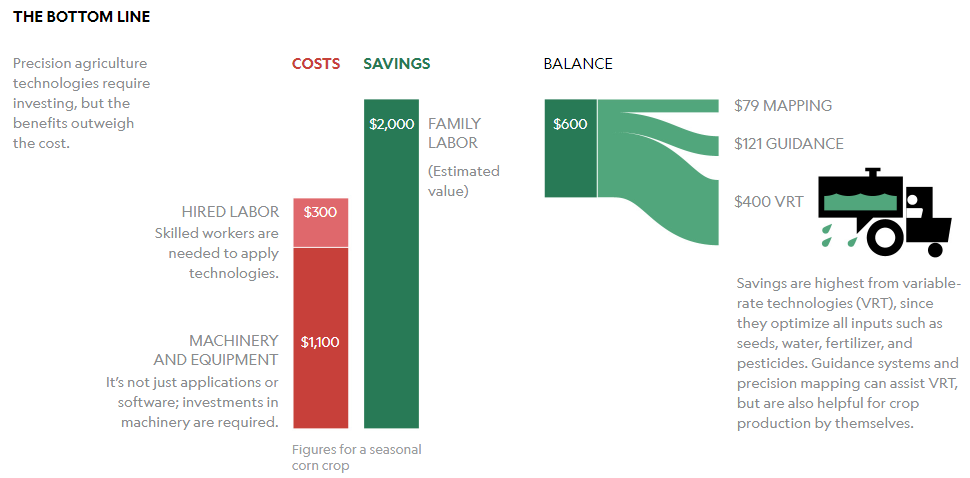 Figure 1: Comparison of financial costs and savings in precision techniques acquisition by small corn farmers in the U.S. The result shows a positive balance on savings, such as mapping, VRT, and guidance systems.
Variable Rate Technology
The positive balance of savings allows farmers to invest in other techniques such as more mapping and guidance for making smarter decisions. The VRT (Variable Rate Technology) is the highest savings as it optimizes inputs and wastes such as seeds, water, fertilizers, pesticides, etc.
Sensoterra's wireless soil moisture sensors are specialized in remote soil moisture monitoring for agricultural applications. The sensors are designed for the field and are easy to install, with installation typically taking only a few minutes. The sensors provide hourly data readings accessible in the free Sensoterra mobile app or customer portal. They send the data wirelessly using LoRa technology and can be placed and moved across all fields. With these techniques, farmers gain more control over their fields, becoming less dependent on the physical presence and more attentive to trends and variations.
Meanwhile, wireless control over fields allows growers to access the exact conditions of soil moisture in the root zone. By achieving optimum soil health conditions, increases in yield can be reached as well as a reduction of water consumption of up to 10-30%.
The positive balance becomes even more visible with Sensoterra probes, where installation becomes so simple that doesn't require additional costs. After downloading the free Sensoterra app, growers can simply scan the unique QR code on the side of the probe, set probe settings (including soil type, and location) then place or hammer the probes into the ground. In addition, farmers receive free data readings (through Sensoterra's app or open API) when acquiring the probes, reducing the required costs for software and technical support. In other words, the Sensoterra solution reduces the common additional costs of labor, usually required for implementation of precision technology.
Moreover, Sensoterra's competitive prices aligned with ROI reached in just one crop cycle have been proving that precision agriculture techniques can be easily implemented by all types of growers – from small independent farmers to big agricultural organizations. As in the case of Werner Farms, a family owned and operated olive orchard in the Central Valley in California (USA) mentioned,
"Sensoterra is an affordable solution that bridges the gap between independent growers, and large agricultural businesses,"

John Werner – Werner Farms
To read Werner Farms' full article plus several other case studies.
About Sensoterra
Sensoterra is a pioneering leader in the field of wireless soil moisture sensors, offering cutting-edge IoT soil moisture sensor solutions for smart agriculture. Our state-of-the-art Sensoterra soil moisture sensors are at the forefront of agriculture IoT, providing unparalleled soil moisture monitoring capabilities.
Our commitment to precision agriculture technology allows farmers to make informed decisions, optimize their irrigation systems, and embrace sustainable farming solutions. With Sensoterra, access to real-time soil moisture data is at your fingertips, enabling precise water management and water resource management for your agricultural operations.
Sensoterra, established in 2015, with its headquarters in Houten, The Netherlands, develops water management solutions for agriculture/horticulture, smart city management, and water governance. Sensoterra has over 12,000 sensors in the ground globally, and generates hundreds of thousands of data points for smart water management, daily. Learn more at www.sensoterra.com
Contact for more information, pictures and/or interview requests:
Jessica Nuboer
Marketing & Communications
Sensoterra
Email: [email protected]