LoRaWAN Connectivity
Sensoterra wireless soil moisture sensors use the LoRaWAN network to supply real-time soil moisture data to the cloud. Sensors data is forwarded by the LoRaWAN network to the Sensoterra backend to be decoded, and calibrated. Read more about LoRaWAN connectivity & data here.
A private gateway may be necessary to cover your farm. It's provides LoRa coverage over on average of 2.5 km, and it's set-up is fairly simple. Much like setting up a router for your own home wifi. The gateway collects the soil data from the sensors, and sends it over the internet to the Cloud where you can access the data from anywhere in the world with your smartphone (mobile device) or desktop.
Commercial LoRaWAN
LoRa, long range radio technology allows devices to communicated over relatively long distances, while using very little power. It's the reason why our sensors can be left in the field, and have life-time of 5+ years.
The benefits of LoRaWAN
Our sensors transmit and receive data over large distances (up to 2.5Km / 2 miles)
Optimised battery consumption due to Low Power needs
Standardization makes the communication platform very scalable
Proven technology, globally available being used by millions of sensors
We can ensure secure and encrypted data
Subscription & Renewal
All sensors come with a two-year LoRaWAN subscription from the moment you buy the sensors. We offer yearly subscriptions for LoRaWAN renewal for Sensoterra sensors after the warranty subscription ends.
Renewal of the LoRaWAN & Data subscription for each sensor includes:
1 EUR per month (12 EUR per year, per sensor)
Use of the Open API
Use of the Sensoterra Monitor App
Data Storage
Data / Soil Calibrations
Support
*An additional 12 Euros per sensor, per year is charged for commercial LoRaWAN network access.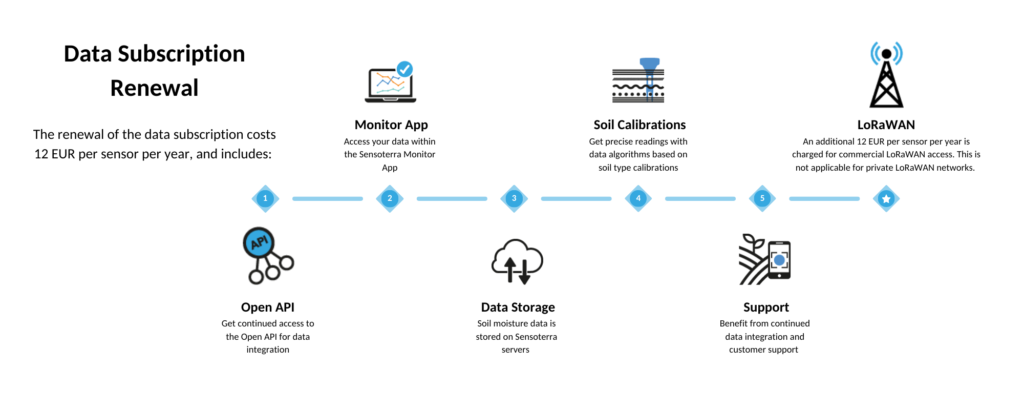 If you have any questions regarding LoRaWAN renewal, please visit our website, or contact us at [email protected]