How smart data helps landscapers define plant needs for healthy urban green spaces.
ConnectedGreen, a Dutch Smart City landscaping data integrator, provides smart data solutions for landscapers and cities, for insights into soil and plant health associated with precision irrigation.
ConnectedGreen partnered with Sensoterra in early 2017, to integrate soil moisture data within their plant care digital platform. Since then, they have installed more than 400 sensors across the Netherlands and Belgium.
Landscaping projects include and public and private lawn maintenance, tree care, and sports field irrigation, as well as smart city data integration, and include Amsterdam's Museum square, the MH17 memorial planting, public parks, private properties, and professional sports fields.
Burring sensors in public spaces
Often in the case of grass fields, Sensoterra probes are installed horizontally at the root-zone, buried under the turf, out of sight of the public.
Sensors are crucial for project management, where success is directly related to plant health. Often landscapers must pay for expenses incurred due to project mismanagement, such as over- or under-irrigation. To optimize efforts, landscapers must continuously measure soil moisture across all projects.
The ConnectedGreen app integrates the Sensoterra data via the Open API, resulting in clear calls-to-action based on data results.
"With Sensoterra sensors we can see at a glance which projects need immediate attention. " –  ConnectedGreen
Knowing which projects require attention, Schaap can give clear indications when exactly to irrigate.
"This saves time, money & irrigation rounds – it keeps the plants healthy."
Hans Schaap (ConnectedGreen) is focused on providing the best advices for landscapers, gardeners, on soil health associated with precision irrigation. Their app platform integrates hourly Sensoterra soil moisture readings (wetness and dryness status, amount of water, and threshold measures), and alerts land managers via pop-ups, alerts, and emails.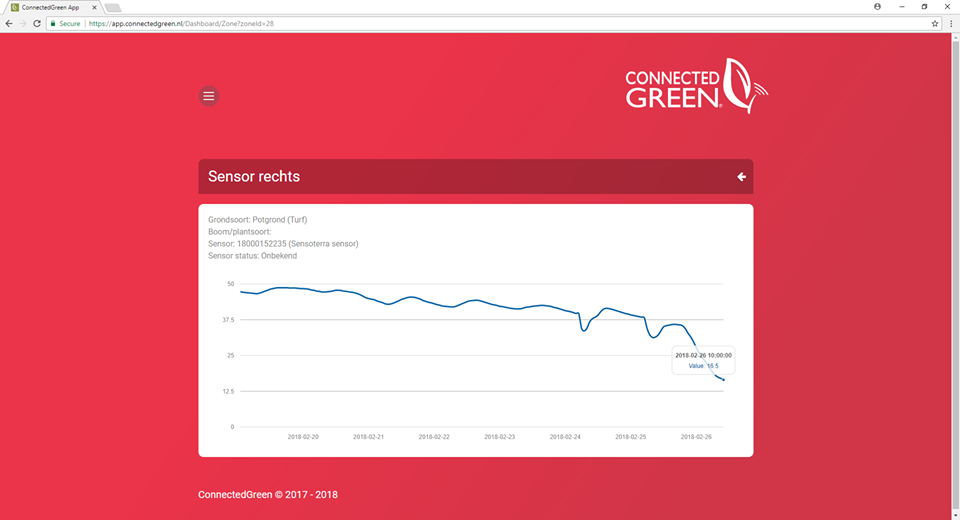 ConnectedGreen app view – data readings and alerts
Year by year, this partnership grows, currently allocating around 400 sensors all over the Netherlands within private and public projects.
The opportunity of IoT technology has impacted the way urban spaces are managed, and ConnectedGreen is at the forefront with their data integration model.
"Sensoterra sensors are ahead of their time"
Sensoterra probes are installed at the green space – next to a tree, shrub, or any type of plant – and the soil moisture data is integrated with the OpenAPI into the ConnectedGreen app. After this, a threshold is created through plant type (of which the system holds more than 300 plant types) and soil type. This facility allows clients to receive alerts about soil moisture status – between the options pre- or critical-warning. "It is literally just receiving the probe and installing within the recommended location," says Schaap.
Soil moisture readings, from different project zones, go from red-orange-green according to the soil situation. In addition, ConnectedGreen is responsible for labeling the probes together with their determined location to facilitate client's experience.
As a landscaping health advisor, Schaap explained the Dutch rules for in the green management market where the project leader is the one who usually pays for tree losses (due to wetness or dryness). Due to this fact, landscapers have to be precautious to avoid financial risks. He explains, "Sensoterra probes saved me a lot of money in these terms, together with more clients."
Amsterdam Museumplein  Museum Square, Amsterdam
As one of the world's greenest cities, Amsterdam is well within in the ranking of the 10 most eco-friendly cities around the world. Heavily investing in sustainability measurements, Amsterdam's municipality aims to achieve even better results: healthy urban green spaces and planting more trees. ConnectedGreen and Sensoterra have established a partnership to better measure soil moisture around the city of Amsterdam, plus several other municipalities around the Netherlands.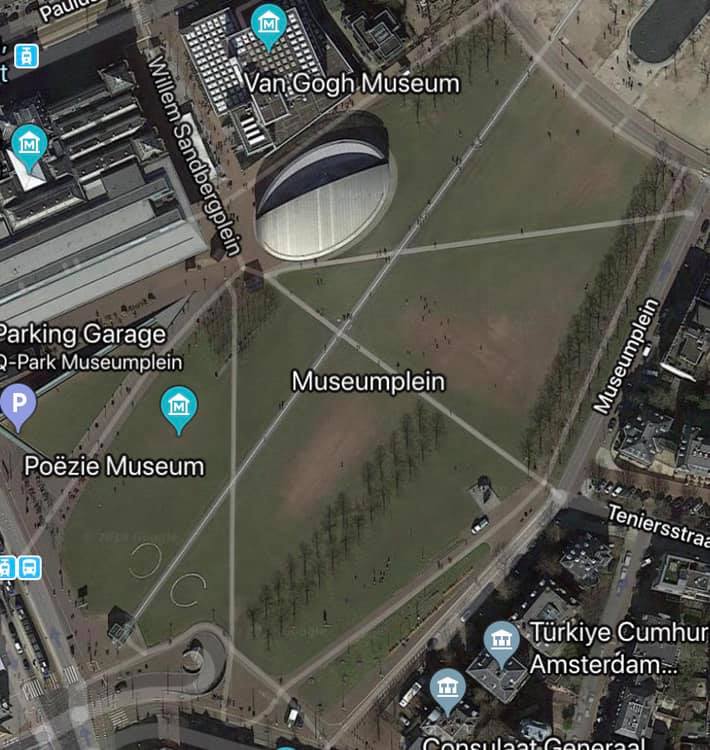 Museumplein view from above.
A recent partnership with the government of Amsterdam, is the Museumplein (Museum square) project – one of the most iconic spots in Amsterdam. In order to keep the grass field park green for inhabitants and tourists, the city and landscapers need to continuously monitor soil moisture levels. By integrating the Sensoterra data with the ConnectedGreen app – decisions can be made as to when to start, and to stop irrigating the area.
"As a landscaper, Sensoterra probes give me the confidence to deal with soil zone variations within one single field."
The Museumplein project is unique as the levels of soil differ due to an underground parking garage beneath part of the grass field. For example, the zone on top of the parking garage only measures to a depth of 20 cm, and this poses an issue regarding water drainage due to the concrete surface.
"When you have different soil depths in one single area, soil health investigation needs to be treated differently."
MH17 Memorial, North Holland
The MH17 Memorial situated in the Vijfhuizen Park (Schiphol Airport area), has 298 trees to symbolize the total number of victims of a fatal plane crash in 2014. Each tree was chosen by one of the family members of the victims and stands as a symbolic memory of love.
"If it wasn't for soil moisture sensors, the soil conditions of the area could compromise the health of the trees"
Together with ConnectedGreen, the Sensoterra sensors have been discreetly placed in order to provide data insights on tree health. By placing the sensors, Schaap discovered a critical situation at the area; although characterized as a sandy region with ample drainage, the discovery of deeper clay prevents drainage, resulting in wet soil and possibly compromising trees health.
Sports fields
When the LoRa connection is strong enough, Voogt has found that burying the probes just under turf laws is an effective way to monitor at the root zone, while preventing the probes from being visible to the public. This is a beneficial feature in the case of analyzing soil moisture in sports-fields. Sensoterra probes are helping sports clubs to maintain their fields all year long, by controlling water use and, providing the best insights for irrigation.
"With Sensoterra every football field can be monitored. Moreover, the possibility to place probes on every field gives the chance to prioritize irrigation, saving money, time and energy."
Pius Flores Project, Amsterdam
Pius Flores landscaping company specializes in city landscaping and has been involved in several projects with Sensoterra probes and the ConnectedGreen analysis app. In one of its landscaping projects in Amsterdam's Hemsterhuisbuurt, ConnectedGreen with Pius Flores transplanted multiple trees along a public street. The Sensoterra probes were buried with the trees in order to monitor their health over the first year of transplanting.
The transplanting took place in July, the temperatures were very high and the Netherlands was experiencing an extended drought. According to Schaap, "The weather was so dry and the temperatures so high, that if it wasn't for Sensoterra probes, the planted trees wouldn't survive."
He went on to explain the recent transitions of observed soil behavior in the Netherlands –  where he believes an increase of hydrophobic properties is becoming more frequent in landscaping projects. The tendency of soils to taking on hydrophobic behavior – where water remains in the soil surface and doesn't infiltrate – where water repellency and soil erosion is identified by its muddy characteristics. The most common causes of hydrophobic soils can be attributed to ground peat drying out (where it compacts and becomes hydrophobic) or in cases of fire or topsoil dryness. "The tendency to become hydrophobic, due to the complexity of the soil types, associated with the higher frequency of droughts, require consistent soil monitoring," says Schaap.
About ConnectedGreen
Founded in 2017, ConnectedGreen provides a smart system for remote monitoring of green projects. Making the world greener with smart technology. www.connectedgreen.nl (Dutch).
About Sensoterra
Sensoterra is a pioneering leader in the field of wireless soil moisture sensors, offering cutting-edge IoT soil moisture sensor solutions for smart agriculture. Our state-of-the-art Sensoterra soil moisture sensors are at the forefront of agriculture IoT, providing unparalleled soil moisture monitoring capabilities.
Our commitment to precision agriculture technology allows farmers to make informed decisions, optimize their irrigation systems, and embrace sustainable farming solutions. With Sensoterra, access to real-time soil moisture data is at your fingertips, enabling precise water management and water resource management for your agricultural operations.
Sensoterra, established in 2015, with its headquarters in Houten, The Netherlands, develops water management solutions for agriculture/horticulture, smart city management, and water governance. Sensoterra has over 12,000 sensors in the ground globally, and generates hundreds of thousands of data points for smart water management, daily. Learn more at www.sensoterra.com
Contact for more information, pictures and/or interview requests:
Jessica Nuboer
Marketing & Communications
Sensoterra
Email: [email protected]