Defining the best irrigation for optimum bulb quality and yield
When you think of the Netherlands, you think of tulips and windmills. That's one stereotype that isn't far from reality. When flying over the country in March and April, you'll see fields of purple, yellow, orange, and red – the bulb flowers that captivated this country for hundreds of years.
Revolutionizing Tulip Cultivation in the Netherlands with Sensoterra's Wireless Soil Moisture Sensors
Flower bulb exports are a cornerstone of the Dutch economy, contributing approximately €6 billion annually. To maximize the quality and yield of flower bulbs, Dutch growers often operate multiple fields with varying soil conditions. For these tulip growers, achieving the right soil conditions for their crops is a complex task. GMN, an agricultural advisory firm, partners with Sensoterra to provide an innovative solution to flower bulb growers across the Netherlands. They've been leveraging Sensoterra's advanced technology since 2017, and the results are impressive.
Smart Data for Smart Flower Bulb Cultivation
Tulips, while stunning, are known to be finicky flowers. They require specific soil conditions to flourish, and growers often have fields scattered across different areas. These fields can be separated by roads, farms, or towns, making it impossible for growers to be present everywhere simultaneously. This is where smart data comes into play. Sensoterra's wireless soil moisture sensors offer a cutting-edge solution to this challenge.
GMN's Geert Steenhuis, an agricultural advisor, understands the complexity of growing tulips. He works with a vast portfolio of over 50 growers, which makes it unfeasible to be physically present in all fields. Sensoterra's wireless IoT-based system with remote capabilities allows Steenhuis and the growers to access hourly data on soil moisture conditions 24/7. With the power of Long Range Low Power (LoRa) radio communication, these sensors can be placed strategically anywhere within reach of a LoRa gateway.
In the Netherlands, KPN, a telecommunications leader, ensures extensive LoRa coverage across the country, offering Sensoterra sensors the flexibility to be placed and relocated as needed. The system's simplicity enhances usability, as Steenhuis and his clients can monitor all the fields simultaneously via the user-friendly Sensoterra monitor app.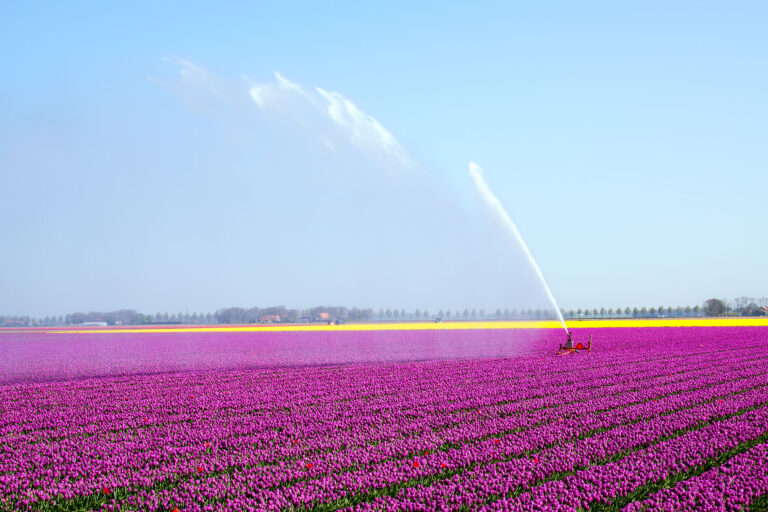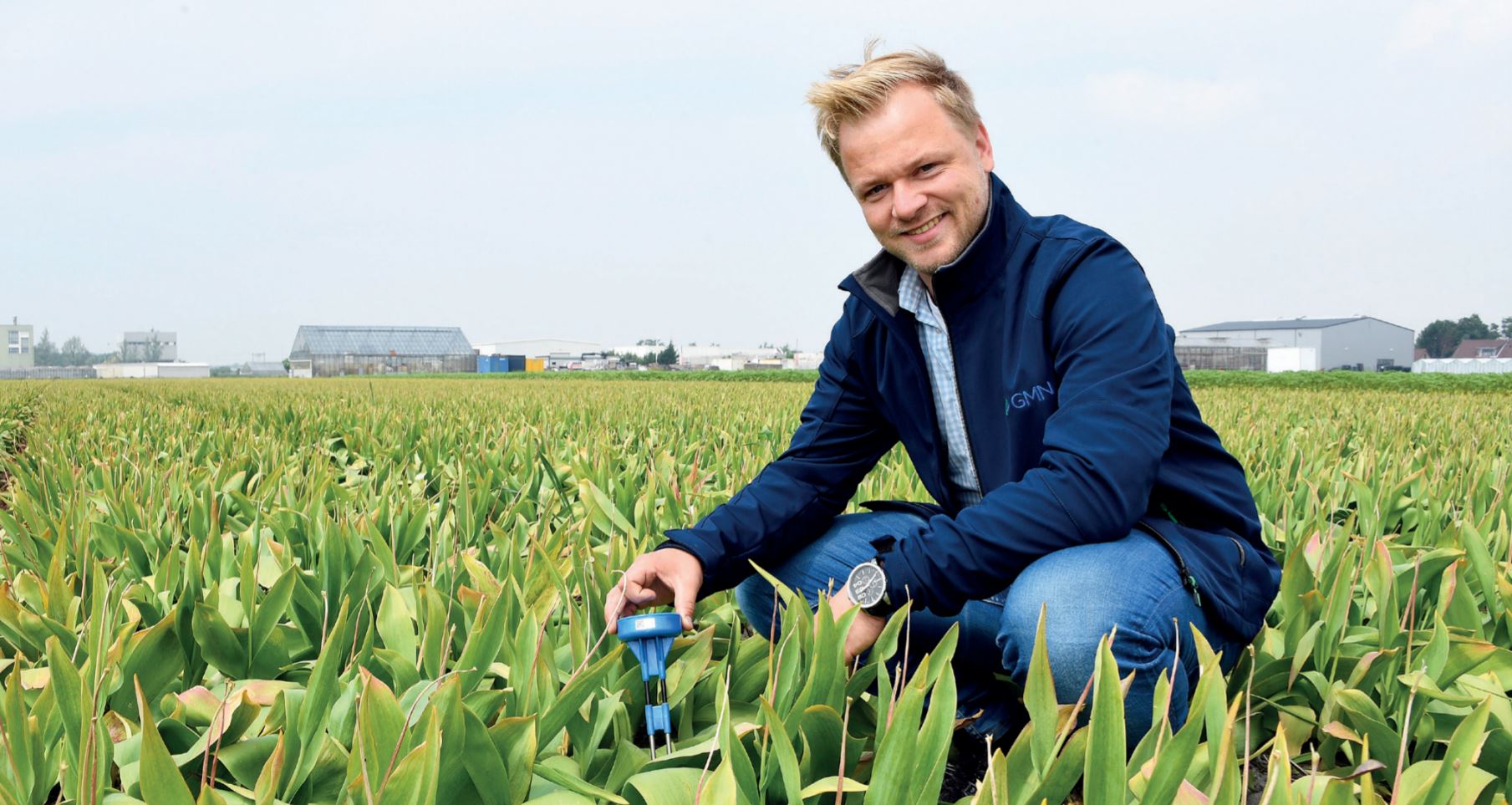 Data-Driven Decisions for Flower Bulb Growers
One of the most significant advantages of the Sensoterra system is that it transforms intuition into data-driven decisions for irrigation. When farmers access the app and see the soil moisture readings, they can make informed choices regarding irrigation needs. It's a powerful transition from guesswork to data-based actions.
Addressing Drought Challenges
The Netherlands experienced an unusually hot and dry summer in 2018, marking the warmest season in over three centuries. Tulip growers typically irrigate once a week. However, the Sensoterra sensors proved invaluable during this drought. They indicated that more frequent irrigation—approximately every 3-4 days—was necessary to maintain crop quality. Thanks to the sensors, growers adjusted their irrigation practices promptly, ensuring their crops thrived.
GMN plans to further elevate its crop knowledge and services by integrating Sensoterra's solution into its existing data systems using the API. This innovation demonstrates how smart agriculture sensors like Sensoterra are revolutionizing flower bulb cultivation, providing growers with the data they need to optimize crop health, yield, and quality.
Unlocking the Power of Smart Agriculture Sensors
The partnership between GMN and Sensoterra has highlighted the potential of precision agriculture technology. These smart agriculture sensors, driven by IoT technology, enable growers to access real-time soil moisture data and improve soil moisture monitoring.
Growers can take full control of water management with precise irrigation control, achieving remarkable irrigation system optimization. This proactive approach aligns with the principles of climate smart agriculture, promoting a more sustainable farming solution.
The integration of wireless soil moisture sensors into the fields, supported by IoT sensors for agriculture, empowers growers with the insights needed to foster nature-based solutions. This innovative technology, known for its soil sensing capabilities, including moisture probes, specifically capacitive soil moisture sensors, ensures a smart irrigation system for optimizing water management.
Growers can take full control of water resource management, creating a smart water system that emphasizes water management system irrigation sensors.
About GMN
GMN is a prominent player in the Dutch agricultural market, specializing in crop protection, fertilizers, seeds, and flower bulb distribution. Their mission is to strike a harmonious balance between agricultural protection and arable farming expansion, fostering a sustainable agricultural sector. Learn more about GMN on their website here (Dutch).
About Sensoterra
Sensoterra is a pioneering leader in the field of wireless soil moisture sensors, offering cutting-edge IoT soil moisture sensor solutions for smart agriculture. Our state-of-the-art Sensoterra soil moisture sensors are at the forefront of agriculture IoT, providing unparalleled soil moisture monitoring capabilities.
Our commitment to precision agriculture technology allows farmers to make informed decisions, optimize their irrigation systems, and embrace sustainable farming solutions. With Sensoterra, access to real-time soil moisture data is at your fingertips, enabling precise water management and water resource management for your agricultural operations.
Sensoterra, established in 2015, with its headquarters in Houten, The Netherlands, develops water management solutions for agriculture/horticulture, smart city management, and water governance. Sensoterra has over 12,000 sensors in the ground globally, and generates hundreds of thousands of data points for smart water management, daily. Learn more at www.sensoterra.com
Contact for more information, pictures and/or interview requests:
Jessica Nuboer
Marketing & Communications
Sensoterra
Email: [email protected]