World Ag Expo is one of the world's biggest conferences in agriculture, the largest annual agricultural exposition, offering the best knowledge exchange between customers, sellers, and resellers. This year, the conference was located in California, USA, and Sensoterra was there as one of the exhibitors.
"World Ag Expo showed us a complete bird-eyed view from the latest tendencies in the agricultural market. Especially because it took place in the U.S: the scenario for the biggest growers in the world. Great environment for networking, technology absorption, but also the chance to amplify Sensoterra's clients and partnerships." Jurriaan Ruys (CEO, Sensoterra)

"The good thing about World Ag was the interaction within participants: you could see from big Ag companies to students, in a very fresh and cooperative environment," says Bas van der Velden, Sales Director at Sensoterra.
Also during the conference, they had the chance to interview the grower and reseller Matt Murray, a Sensoterra client, who runs an almond orchard at Frederick's Farm (Ripon, USA) together with Process Tech Ag business where he combines data from multiple IoT sensor sources and group it into a single platform for all sorts of clients. Murray described the benefits of using soil moisture sensors and Sensoterra probes:
"Give you great data of how much water is coming down to the roots. They are great for calibrating your irrigation runtime." Matt Murray, Process Tech Ag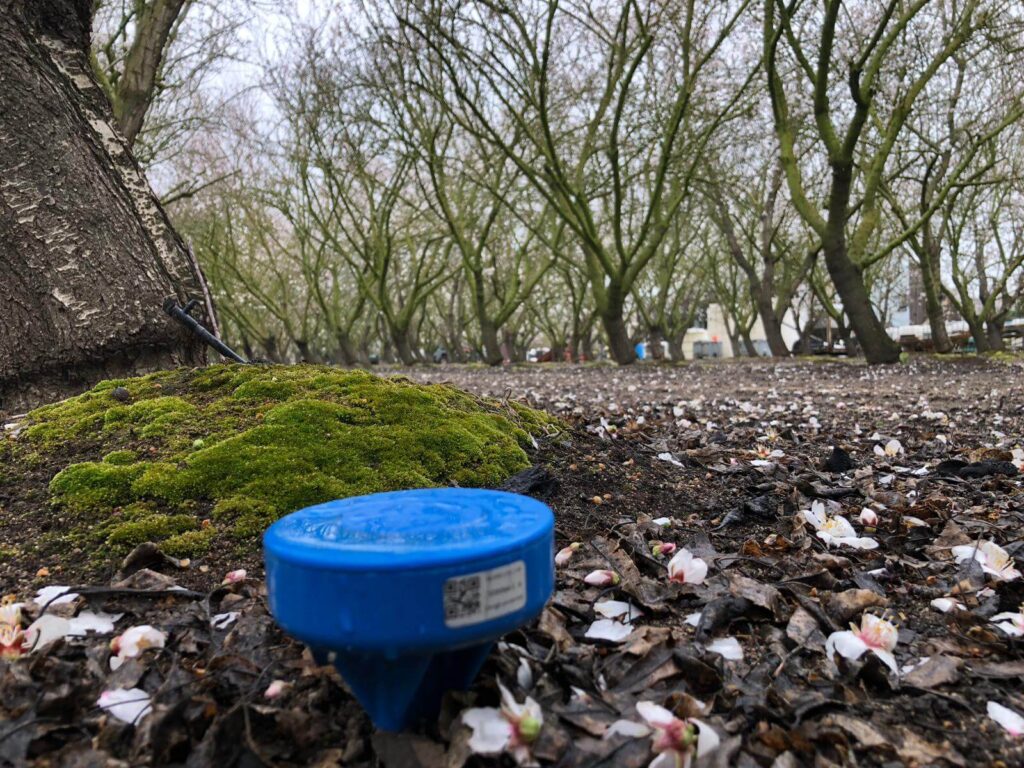 Sensoterra probe in an almond orchard
Sensoterra probes are specialized in soil moisture monitoring for agriculture, horticulture, smart cities solutions, and landscaping activities. A wireless soil moisture sensor, low-cost, easy-to-install sensor, designed for all types of crops and soils, structured to provide the best balance between water and soil. By reaching the best soil moisture conditions, yield increase can be easily achieved as well as water saving by 10-30%.
About Sensoterra:
Founded in 2014, Sensoterra (www.sensoterra.com) provides data-driven solutions for optimizing land and freshwater resources for agriculture, horticulture, landscaping and nature restoration.
Contact for more information and/or interview requests:
Jessica Nuboer
Marketing & Communications
Sensoterra
Email: [email protected]