New functionality has been added to the Sensoterra Monitor web and mobile app to improve the experience of soil moisture data management.
We continuously work to offer improvements in understanding soil moisture data. After adding around 20 additional soil types to our ever-growing soil calibration library, we have now updated the Sensoterra Monitor web and mobile app to improve sensor data management and soil moisture behavior understanding.
Graph Settings
New to the data graph view is the option to average soil moisture data based on sensors in the same location and with the same soil type. This allows users to have an indicative overview of the performance of multiple sites in terms of average soil moisture levels. If needed, outliers can be excluded from the average calculations. 
An addition to this, is the updated visualization for high and low threshold values. Based on preset thresholds from the selected soil type (irrigation point for setpoint low and field capacity for setpoint high), or by manually adjusting the thresholds, you can at a glance see soil moisture levels in relation to the set parameters.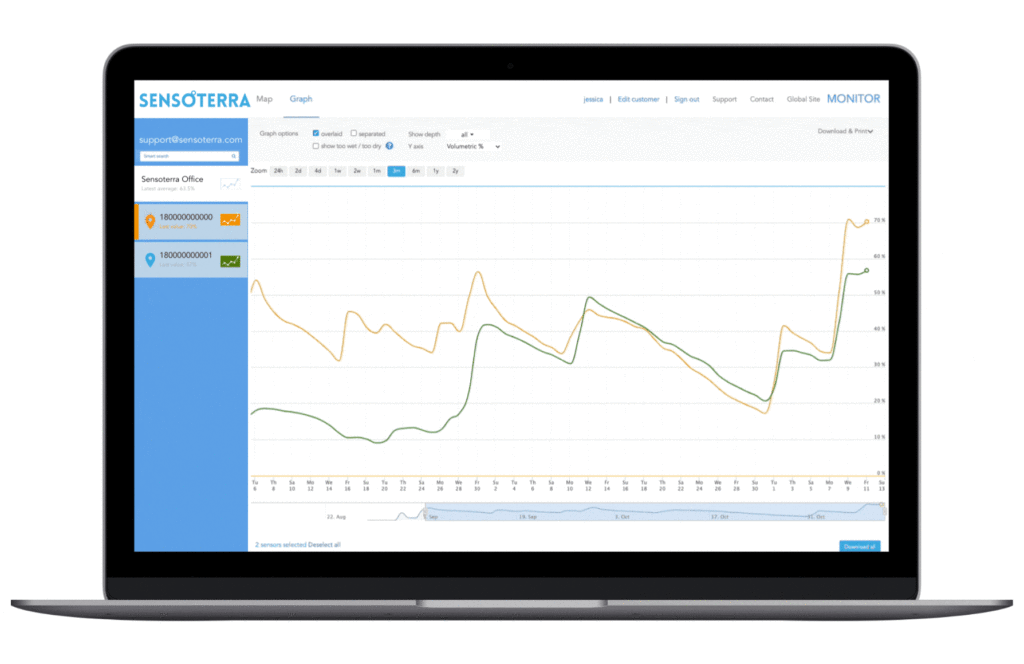 Sensor options
In the sensor property settings, we've also added a selection button to activate or deactivate the use of automatic thresholds based on soil type. If you select your soil type in the set-up, these thresholds will be automatically attributed to that sensor. When activated, it is always possible to change the thresholds manually as well.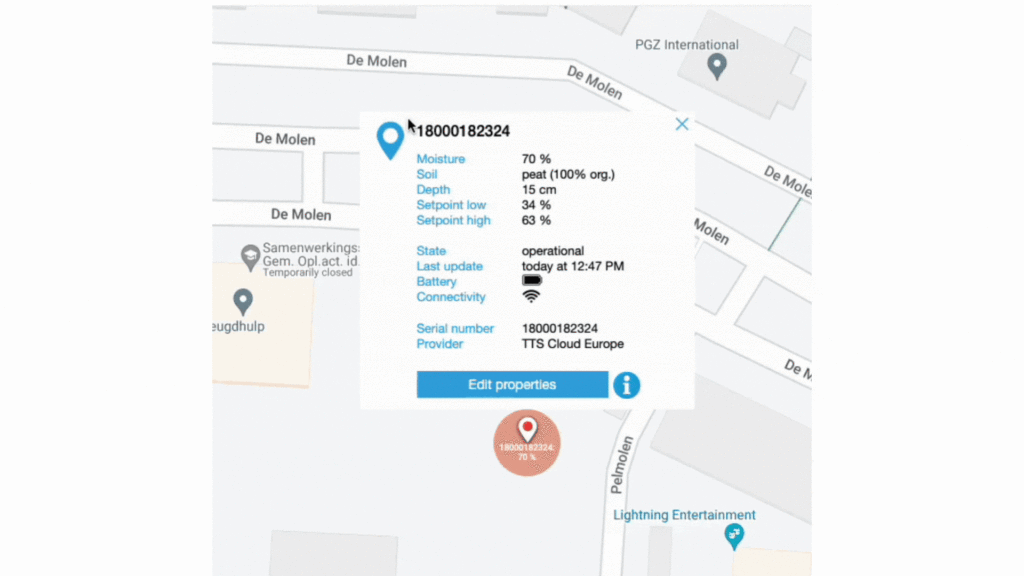 Sensoterra Monitor and API integration
The updated functionality helps users to better understand their soil moisture readings and is also meant as an example of what's possible with our API. Because all functionality is built on the same API, which is available for our customers, the Sensoterra Monitor functions as an example to showcase what is possible for soil moisture data integration in other platforms and applications. 
Our sensors are built to integrate, and at the same time we will keep updating our app for:
Stand-alone data retrieval
Registering sensors, retrieving data, and changing settings during the process of API integration
Hybrid use (API data integration combined with Sensoterra Monitor)
We're proud to have >30 standard soil calibrations available (and counting), to offer high accuracy measurements in many soil types around the world. And because our calibration happens on the server side, we can always add and expand our list of standard calibrations to support new soil types, based on the needs of our users.
Soil Calibration Guide 
To help support you decisions for placement of sensors based on soil type and soil moisture behavior, we've put together a free Soil Calibration Guide.