To properly manage soil moisture, it first needs to be measured
Higher prices for water, fuel and fertilizers combined with more drought and increasing demand for food, require farmers and growers to work even more efficiently. Where in the past it didn't really matter that we used more than necessary water, there is now a broad realization that water and other resources should be preserved. And that the water which is available, should be used as efficiently as possible to optimize yields.
Many water management solutions are emerging, from the use of stand-alone watering systems to fully integrated Cloud based platforms. However, to manage something it first needs to be measured. Accurate, real-time soil moisture data is needed to support decision making and to be fed into automated systems. Besides the raw data, it may even be more important to interpret the numbers to make the information actionable.
A key issue with traditional monitoring systems is the expensiveness, complexity of installation, high maintenance and difficulty to integrate one system with another. Smart, wireless IoT sensors are now challenging the status quo, making it a lot easier and cheaper to get an accurate picture of the soil moisture levels in orchards and fields.
Sensoterra's newest generation wireless soil moisture sensors are revolutionizing the way how soil moisture data is monitored:
The sensors are low-cost, which means that more sensors can be placed for less money.
Data can be retrieved with the free Sensoterra app, but the sensors are built to integrate. The open API, enables integrations with water management platforms and solutions.
The sensors can be installed in <1 minute without use of additional tools, because the sensors are hammerable (patented).
The sensors are 100% maintenance free, with a built- in battery which runs up to 8 years.
High accuracy is achieved with an extensive library of standard soil calibrations.
Different lengths are available for different applications.
Many sensors are already in use in the UAE, KSA,Turkey and other Gulf countries, saving up to 50% on water and fuel. Sensoterra is currently looking to expand the network of Integration Partners in the GCC region.
Soil Calibration Guide 
To help support you decisions for placement of sensors based on soil type and soil moisture behavior, we've put together a free Soil Calibration Guide.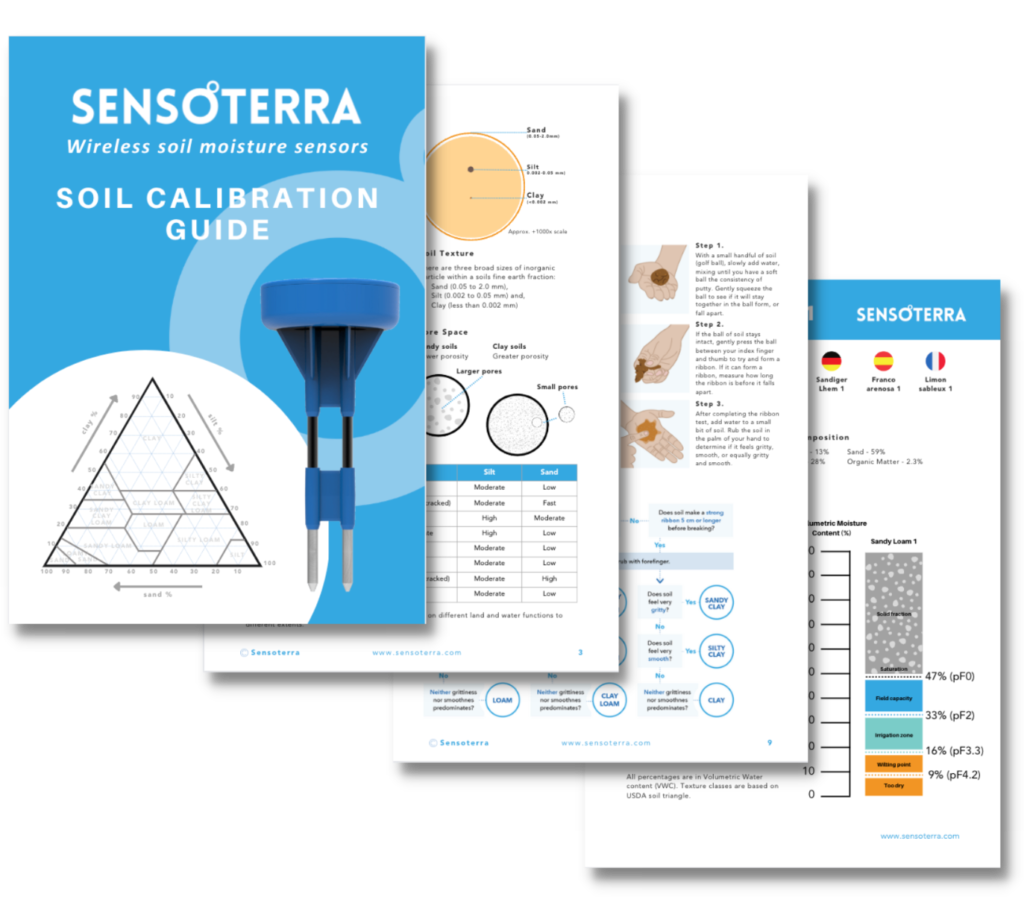 Download the free soil calibration guide 
About Sensoterra
Sensoterra provides data-driven solutions for optimizing land and freshwater resources for smart resilient cities, water and drought management, and agriculture/horticulture.
The easy-to-install, rugged and long-lasting soil moisture sensors offer real-time soil moisture readings optimal for data integration. 
Based in Utrecht, Sensoterra's aim is to improve water management with integrated soil moisture data. 
Operating in 30+ countries, soil moisture sensors generate over 60 million global data points, optimized for integration.
Learn more at www.sensoterra.com