Case Study Meshed Micro-drip Irrigation
Optimized irrigation management for improved grape quality and production
Precision irrigation has become a vital practice for high-value crop growers worldwide, including the wine industry. As demand rises for superior crop quality and yield, growers seek optimized solutions for irrigation and fertigation processes in their fields, especially in the face of market volatility in chemical input availability.
The Precision Solution
Dividing irrigation into smaller management zones allows growers to monitor and optimize activities with unparalleled precision. One grower reduced irrigation by 80% resulting in improved grape quality, and a 3x increase in marketable yield from the previous season.
Want to learn more?
Download the of the case study on precision irrigation for wine production, to learn more about precision irrigation with meshed drip systems.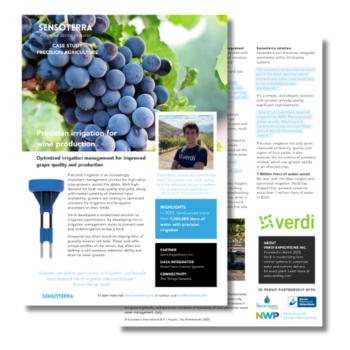 Get started with Sensoterra
To get started, answer a few short questions so we can send you a custom quote
request a quote