Case Study Subs-surface Drip Irrigation in Date Palms
Smart Water Management for Farming and Cities in the Middle East: Scalable Data & Real-Time Insights with Sensoterra's Smart IoT Systems
Scalable data & real-time insights with fully integrated smart IoT systems
Smart Farm Sensing, in collaboration with Sensoterra, revolutionizes water management in date palm plantations and smart landscaping irrigation across the Middle East. Laurens Bierens, Managing Director of Smart Farm Sensing, highlights Sensoterra's crucial role in optimizing irrigation for both agricultural and city landscapes in Saudi Arabia and the Emirates.
The challenge was to achieve scalable data collection. While satellite data shows promise, its adoption and reliability for on-the-ground decisions remain limited. Sensoterra's real-time insights from sensors gain immediate user validation due to their simplicity, robust design, long lifetime, and easy installation.
Learn more
Want to learn more? Download the read the complete case study on Smart Water Management data integration.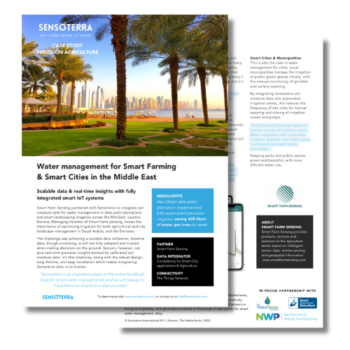 Get started with Sensoterra
To get started, answer a few short questions so we can send you a custom quote
request a quote