Case Study Subsurface Drip Irrigation
Canadian Hops grower improves yield by 3-4x during drought conditions with precision irrigation with Sensoterra soil moisture sensors. This improved yield profitability, and farm management practices with crop diversification in the Canadian plains.
Craft brewing is flourishing in Canada, with a strong emphasis on locally sourced ingredients for top-notch beer quality. In Western Canada, JGL Shepherd Farms, a pioneering hops grower, recognized the importance of precision irrigation to meet local demand. Read how JGL Shepherd Farms achieved this growth within one season, with Sensoterra and download the free case study.
Download the Case Study
Want to learn more? Download the Case Study pdf and read a recent article on JGL Shepherd Farms for more information.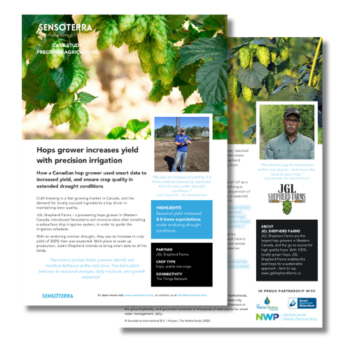 Get started with Sensoterra
To get started, answer a few short questions so we can send you a custom quote
request a quote